Anna Poletti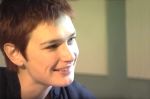 Associate Professor of English Language and Culture
Anna's fields of research are: contemporary life writing, with a particular interest in the role of mediation and materiality in self-representation and narrative; feminist and queer literary theory; contemporary print cultures.
With Julie Rak (University of Alberta), Anna is co-editor of Identity Technologies: Constructing the Self Online (University of Wisconsin Press). She is the co-author, with Kate Douglas (Flinders University) of Life Narrative and Youth Cultures: Representation, Agency and Participation forthcoming from Palgrave Macmillan.
Anna teaches BA courses on American Literature, and teaches MA courses on literary prizes and canon formation, and research methods.