Publications
Political Violence and Trauma in Argentina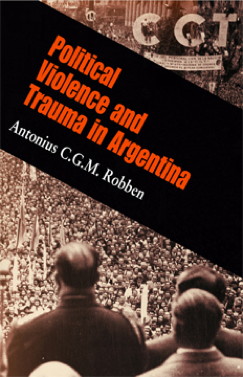 Antonius C. G. M. Robben
For decades, Argentina's population was subject to human rights violations ranging from themerely disruptive to the abominable. Violence pervaded Argentine social and cultural life in the repression of protest crowds, a ruthless counterinsurgency campaign, massive numbers of abductions, instances of torture, and innumerable assassinations. Despite continued repression, thousands of parents searched for their disappeared children, staging street protests that eventually marshaled international support. Challenging the notion that violence simply breeds more violence, Antonius C. G. M. Robben's provocative study argues that in Argentina violence led to trauma, and that trauma bred more violence.
In this work of superior scholarship, Robben analyzes the historical dynamic through which Argentina became entangled in a web of violence spun out of repeated traumatization of political adversaries. This violence-trauma-violence cycle culminated in a cultural war that "disappeared" more than ten thousand people and caused millions to live in fear. Political Violence and Trauma in Argentina demonstrates through a groundbreaking multilevel analysis the process by which different historical strands of violence coalesced during the 1970s into an all-out military assault on Argentine society and culture.
Combining history and anthropology, this compelling book rests on thorough archival research; participant observation of mass demonstrations, exhumations, and reburials; gripping interviews with military officers, guerrilla commanders, human rights leaders, and former disappeared captives. Robben's penetrating analysis of the trauma of Argentine society is of great importance for our understanding of other societies undergoing similar crimes against humanity.