Publications
Ned Kelly as Memory Dispositif Media, Time, Power, and the Development of Australian Identities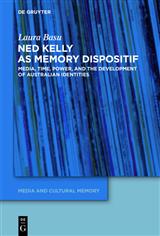 Laura Basu
Nineteenth-century outlaw Ned Kelly is perhaps Australia's most famous historical figure. Ever since he went on the run in 1878 his story has been repeated time and again, in every conceivable medium. Although the value of his memory has been hotly contested – and arguably because of this – he remains perhaps the main national icon of Australia. Kelly's flamboyant crimes turned him into a popular hero for many Australians during his lifetime and far beyond: a symbol of freedom, anti authoritarianism, anti imperialism; a Robin Hood, a Jesse James, a Che Guevara. Others have portrayed him as a villain, a gangster, a terrorist. His latest incarnation has been as WikiLeaks founder and fellow Australian "cyber outlaw" Julian Assange.
The fascinating case of this young outlaw provides an important opportunity to further our understanding of the dynamics of cultural memory. The book explains the processes by which the cultural memory of Ned Kelly was made and has developed over time, and how it has related to formations and negotiations of national identity. It breaks new ground in memory studies in the first place by showing that cultural memories are formed and develop through tangles of relations, what Basu terms memory dispositifs. In introducing the concept of the memory dispositif, this volume brings together and develops the work of Foucault, Deleuze, and Agamben on the dispositif, along with relevant concepts from the field of memory studies such as allochronism, colonial aphasia, and multidirectionality, the memory site – especially as developed by Ann Rigney – and Jan Assmann's figure of memory.
Secondly, this work makes important headway in our understanding of the relationships between cultural memory and national identity, at a time when matters of identity appear to be more urgent and fraught than ever. In doing so, it shows that national identities are never purely national but are always sub- and transnational. The Ned Kelly memory dispositif has made complex and conflicting contributions to constructions of national identity. Ever since his outlawry, the identities invested in Kelly and those invested in the Australian nation have, in a two-way dynamic, fused into and strengthened each other, so that Kelly is in many ways a symbol for the national identity. Kelly has come to stand for an anti-establishment, working class, subaltern, Irish-inflected national identity. At the same time he has come to represent and enforce the whiteness, hyper-heterosexual masculinity and violence of "Australianness". Basu shows that Kelly has therefore always functioned in both radical and conservative ways, often both at once: a turbulent, Janus-faced figure.