Publications
Argentina Betrayed: Memory, Mourning, and Accountability Antonius C. G. M. Robben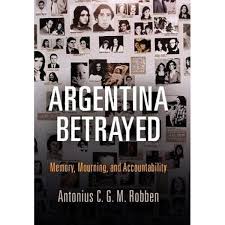 The ruthless military dictatorship that ruled Argentina between 1976 and 1983 betrayed the country's people, presiding over massive disappearances of its citizenry and, in the process,
destroying the state's trustworthiness as the guardian of safety and well-being. Desperate relatives risked their lives to find the disappeared, and one group of mothers defied the repressive regime with weekly protests at the Plaza de Mayo in Buenos Aires. How do societies cope with human losses and sociocultural traumas in the aftermath of such instances of political violence and state terror?
In Argentina Betrayed, Antonius C. G. M. Robben demonstrates that the dynamics of trust and betrayal that convulsed Argentina during the dictatorship did not end when democracy returned but rather persisted in confrontations over issues such as the truth about the disappearances, the commemoration of the past, and the guilt and accountability of perpetrators. Successive governments failed to resolve these debates because of erratic policies made under pressure from both military and human rights groups. Mutual mistrust between the state, retired officers, former insurgents, and bereaved relatives has been fueled by recurrent revelations and controversies that prevent Argentine society from conclusively coming to terms with its traumatic past.