Agenda
25 February 2021
17:00 - 18:30
Online Event
Seminar with Lorena De Vita: Diplomacy and Memory: The Case of German-Israeli Relations in the Aftermath of the Holocaust
February 25, 2021; 17.00-18.30 CET; Online Event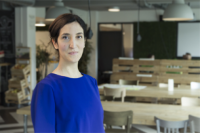 The rapprochement between Germany and Israel in the aftermath of the Holocaust is one of the most striking political developments of the twentieth century. German Chancellor Angela Merkel recently referred to it as a 'miracle'. But how did this 'miracle' come about? In her book presentation Lorena De Vita will draw upon sources from both sides of the Iron Curtain, to reflect on the contradictions and dilemmas that shaped the making of German-Israeli relations at the outset of the global Cold War. Her Israelpolitik: German-Israeli Relations 1949-1969 is the first book to analyse both East and West German policies towards Israel in the 1950s and 1960s. As such, it is not just a history of German-Israeli relations, but also a history of the Cold War competition between the two German states, as each attempted to strengthen its position within the international arena while struggling with the legacy of the Nazi past. While the Cold War struggle to win markets and influence presented many of the same challenges and scenarios to either German state in the Middle East, Asia, Africa and beyond the presence of Israel in the region implicitly meant that in the Middle East – like nowhere else in the world – representatives of both Germanys were confronted with issues that uniquely pertained not only to their contemporary rivalry, but also to their past. But how, when and why do diplomacy and the politics of memory intersect, and with what consequences? Join us for a multidisciplinary discussion on the legacy of Nazism, memory and international politics.

Lorena De Vita is a tenured Assistant Professor in the History of International Relations at Utrecht University (Netherlands). She is fascinated by the complexity – and possibility – of dialogue in international politics, and this is a topic which runs through most of her research and teaching activities. Lorena is the author of Israelpolitik: German-Israeli Relations 1949-1969 (Manchester: Manchester University Press, 2020) and she spent the last ten years researching and writing about the history of German-Israeli relations, receiving competitive international fellowships, including: a Postdoctoral Research Fellowship held at the Richard Koebner Minerva Center for German History of the Hebrew University in Jerusalem (Israel) and a Research Fellowship of the German Academic Exchange Service (DAAD) at the Friedrich-Schiller-University, Jena (Germany); as well as a Joseph Wulf Fellowship, granted by the Foundation Memorial House of the Wannsee Conference, Berlin (Germany). Her research has appeared in leading scholarly journals such as International Affairs and Cold War History and in public outlets, such as The Washington Post, and she has spoken widely about her work in academic and cultural arenas, publishing in English, German and (forthcoming) Hebrew.
To register for this event, please send an e-mail to react@uu.nl.