Agenda
22 April 2021
17:00 - 18:30
Online Event
Seminar with Chiara De Cesari: Memory, Populism, Race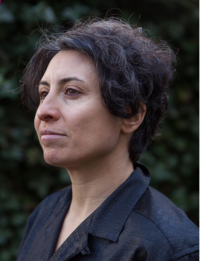 April 22, 2021; 17.00-18.30 CET Online Event
In her talk, Chiara De Cesari will examine right-wing populists' powerful reliance on ideas of memory and heritage in Europe and beyond. Memory and heritage scholars have recently begun to explore the relationship between their subject matter and the momentous rise (or return) of ultranationalism. Investigating the populist claim that a shared, homogeneous heritage and memory is key to a functioning political community, and that different heritages and cultures are incommensurable with one another, De Cesari argues that to understand the relationship between memory and populism we must foreground the question of race and cultural racism, both of which are thus far neglected in memory studies. She will also present preliminary results of another strand of research she is conducting with Wayne Modest of the National Museum of World Cultures that focuses on how decolonial activists and artists are contesting that very racism by engaging with colonial heritage in new and creative ways.
Chiara De Cesari is Associate Professor in European Studies and Cultural Studies at the University of Amsterdam. Her wide-ranging research explores how forms of memory, heritage, art, and cultural politics are shifting under conditions of contemporary globalization and state transformation. One strand of work explores how artists and activists are reclaiming and reinventing cultural institutions. Chiara is currently leading a major NWO-funded project on this theme, named "Imagining Institutions Otherwise." Another concerns the transnational politics of memory and cultural heritage, above all in the West Bank. Her monograph, Heritage and the Cultural Struggle for Palestine (Stanford UP, 2019), argues that Palestinian civil society has enrolled museums and urban regeneration initiatives to assert its distinct cultural heritage amid the enduring Israeli occupation. Still another focuses on colonial legacies in contemporary Europe. Chiara is currently co-writing another monograph, provisionally titled Curating the Colonial, which explores how museums are reframing colonial histories in response to postcolonial critiques. Across these interests, Chiara has published many articles in journals such as American Anthropologist, Current Anthropology, and Memory Studies, and co-edited two key volumes in memory studies (European Memory in Populism, Routledge, 2019; Transnational Memory, de Gruyter, 2014) and a special issue of the International Journal of Heritage Studies on urban heritage and gentrification (2018). Committed to international and interdisciplinary collaboration, she has been involved in several major international research projects. Currently, she is part of the HERA's "en/counter/points" project and the Trans-Atlantic Platform for Social Innovation's "Worlding Public Cultures" network.
To register for this event, please send an e-mail to react@uu.nl.